Singularity Reshoring
How Innovation is Enabling the Deglobalisation of Supply Chains
Reshoring concerns the relocation of manufacturing and related business activities to domestic markets. In the post COVID-19 era, reshoring is gaining momentum as the next global macrotrend But given the costs and challenges that companies and governments face in regionalizing business activities, investing in this trend is not straightforward. By selecting the innovation leaders that facilitate reshoring, the Singularity Reshoring strategy makes it possible.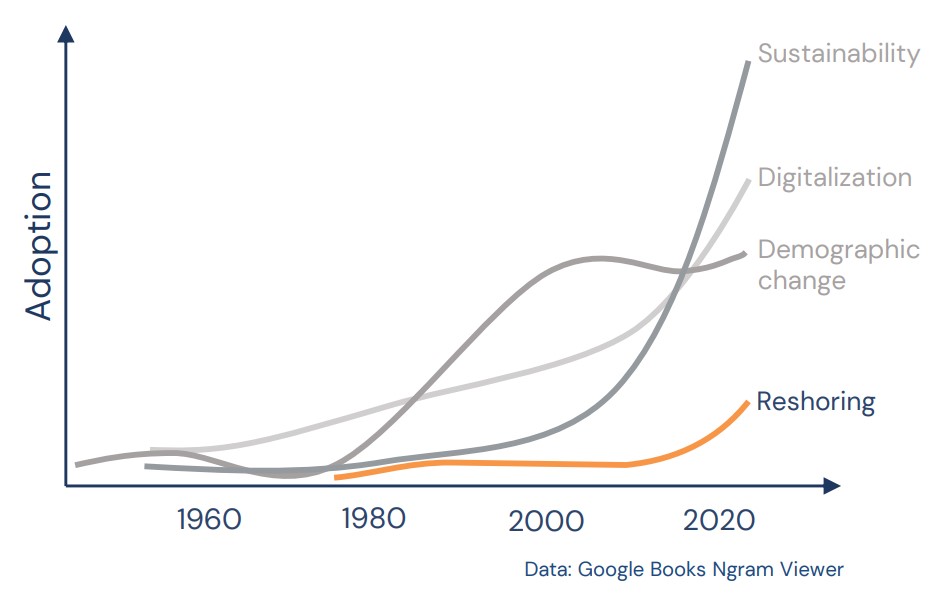 Singularity Reshoring in the Media
Renowned newspaper NZZ am Sonntag featured our new investment vehicle and interviewed our CEO Evelyne Pflugi. Click on the logo below for more. For a deep dive from our investment office and research teams, watch our video update.
Capturing the Beginning of a Macrotrend
Singularity Reshoring is an investment strategy that makes the innovations behind the ongoing deglobalization macrotrend investable. TSG specializes in quantifying innovation through generated cash flows and returns of listed companies. The strategy is designed to verify actual trends. To do this, TSG works closely with its own Singularity Think Tank.
"The past few years led to the end of the borderless globalization era. New international uncertainties, marked by pandemic-related disruptions of transcontinental supply chains, threats to energy and food supplies, and geopolitical conflicts have ignited a rethinking. In this context, we can verify a worldwide trend towards deglobalization and so-called reshoring," explains Evelyne Pflugi, CEO and Co-Founder of TSG. Reshoring stands for the shift of production and related business activities back to domestic markets. The consensus is that for developed countries, regaining sovereignty over production and value creation is becoming increasingly important. "Applied innovation is the new arms race," she adds.
"Since our founding, we have been regularly approached by private banks, asset managers or family offices who would like to invest in hype topics such as the metaverse or hydrogen. So far, we've had to turn them down because we couldn't find sufficient attractive and realistic investment options," says Pflugi, who built her expertise in cash flow investing nearly 15 years ago as a resources and energy analyst at Capital Group in Los Angeles. TSG CIO Pierre Guillier adds, "What sets us apart from many tech-focused strategies is that we only focus on innovation that generates revenue - now, not in the future." Guillier says that many fail to capture deglobalization. "However, we are well positioned to do so because we closely analyze the enabling technologies that are currently relevant. Our expert- and return-driven approach separates inflated hypes from real trends."
One Trend, Six Underlying Topics
The Singularity Reshoring & Deglobalization Strategy identifies over 40 technologies across six sub-themes that are well-positioned to benefit from the reshoring and deglobalization trend:
Automation Technologies
E.g. factory automation, robotics, and smart sensors. Automation Technologies aim to increase the efficiency and productivity of operations, potentially reducing the reliance on foreign labor and enabling companies to relocate production in their home country despite higher labor and manufacturing costs.
Sustainable Ressources & Infrastructure
E.g. energy storage, medium-voltage infrastructure, energy efficiency and grid management software. These technologies benefit companies seeking to reduce their carbon footprint by shortening supply chains and relocating production closer to end markets while increasing their use of clean energy.
Food Security & Sovereignty
E.g., novel food, AgriTech, WaterTech. Events such as the outbreak of the COVID-19 pandemic and recent droughts have highlighted the importance of countries' sovereignty over reliable and secure food and water supply, particularly so in the face of a growing world population.
Design and Engineering Software
E.g. electric & digital building infrastructure, 3D modeling software. They help companies improve the efficiency of infrastructure development and product design as well as manufacturing processes, reducing development times and increasing the ability to customize at scale.
Biomedical Engineering
E.g. bioanalytic diagnostic devices, genomics. Addresses the need for a robust domestic medical supply chain as many countries are looking to decrease their reliance on global supply chains toward more independence and resilient health-care systems.
Semiconductors
E.g. front-end manufacturing equipment, design tools & software, advanced chip foundries. Controlling critical elements of semiconductor value chains guarantees a steady supply of state-of-the-art innovation to meet the increasing demand for advanced electronic devices such as smartphones, medical equipment, and cloud computing, as well as applications in artificial intelligence, connected sensors and machines (IoT), and electric vehicles.
Mapping Innovation
Investing in the Drivers of Change
Real trends differ from hypes in their ability to create value and drive applied, systematic innovation. Based on our expert-led innovation screening methodology, the Singularity Reshoring Strategy gives investors exposure to 44 key reshoring innovation domains across six reshoring themes. The strategy includes 50 companies with a high potential to reap the economic benefits from core reshoring innovations.
Performance simulation rebalanced every six months

Why an Applied Innovation Angle to Reshoring?
"Challenges such as climate change, supply chain bottlenecks, shortages of skilled workers, protection against misuse of key technologies, as well as inflation cannot be solved with weapons. The arms race of our time is about innovation in all industries and systems. If you don't innovate, you lose."
What sets us apart from many tech-focused strategies: We only focus on innovation that actually happens and generates revenue - now, not in the future. Our expert and profit-oriented approach separates inflated hypes from real trends.
Reshoring is a thorny investment theme. By identifying the applied innovation leaders that facilitate efficiency, cost control, and sovereignty, we make reshoring investible.
Applied Innovation

The Singularity Think Tank

The Team
Separating Hype from Reality
Technology themes that make headlines are rarely good investment opportunities. That's why we specialize in identifying and verifying where innovation is actually generating value.
We Rely on Experts, Not Analysts
Practitioners know best. That's why we rely on a carefully selected community of technology thought-leaders to monitor technologies as they evolve and create cash flows in industry value chains. Through regular consultations, task forces, and sector panel discussions, our experts help us identify where applied innovations are truly unfolding – beyond the hype. The Singularity Think Thank is headed by our Director of Research, Shiko Ben-Menahem, PhD. Meet our experts and find our research here.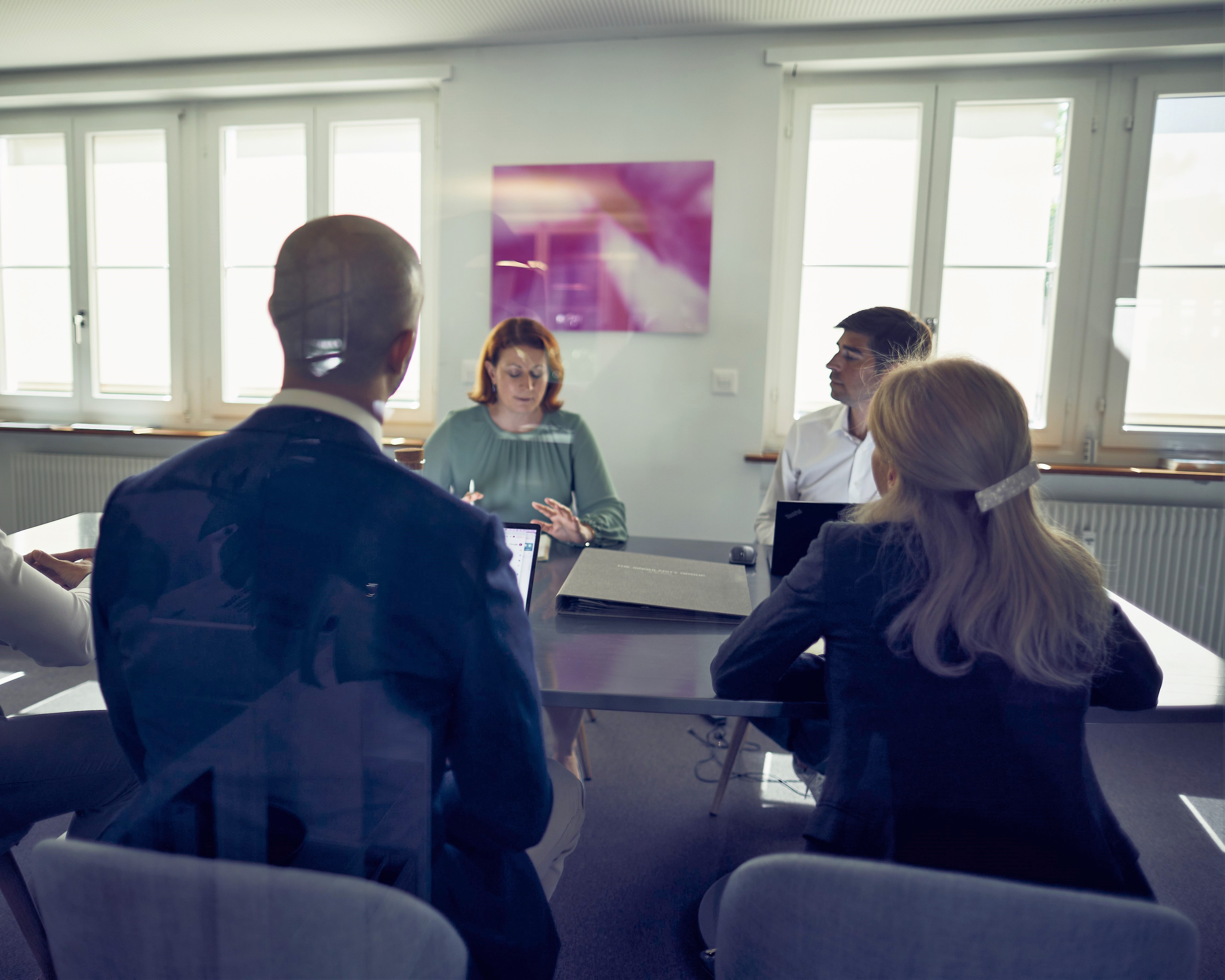 Where Knowledge Merges with Curiosity
Our team includes dedicated professionals, the Singularity Think Tank, a global alliance of renowned innovation experts, an acclaimed Board of Directors and a network of trusted partners. Founded in Switzerland, we have been innovating innovation investing since 2017.
Our expertise encompasses investment strategy, asset management, stock analysis, research, entrepreneurship and more. We bring a range of different skill sets to the table - what we have in common is a thirst for knowledge and for understanding the cutting-edge technologies that shape the world in which we live in. Meet the curious minds behind The Singularity Group.
How can I invest in Singularity Reshoring?
The Singularity Reshoring strategy is structured as a UBS Actively Managed Certificate. It can be bought directly via trading platforms such as Swissquote. You can find the ISIN and SIX-ticker ("Singularity Reshoring C") on the Fact Sheet here. If you don't use e-trading, please get in touch with your bank or online broker.
For institutional investors, please get in touch with us.
How does Singularity Reshoring strategy complement The Singularity Fund?
While The Singularity Fund captures applied innovation across sectors and industries globally, Singularity Reshoring focuses on applied innovations that are enabling and benefiting from the macrotrend reshoring. It's a more concentrated portfolio consisting of 50 companies.
The Singularity Reshoring portfolio consists of small- and mid-cap companies, whereas The Singularity Fund comprises all market capitalizations with a tendency towards large and mega cap.
What's the minimum investment?
There is no minimum investment for retail investors. For institutional investors, please get in touch with us.